Recipes
Nigerian African salad (Abacha and Ugba) recipe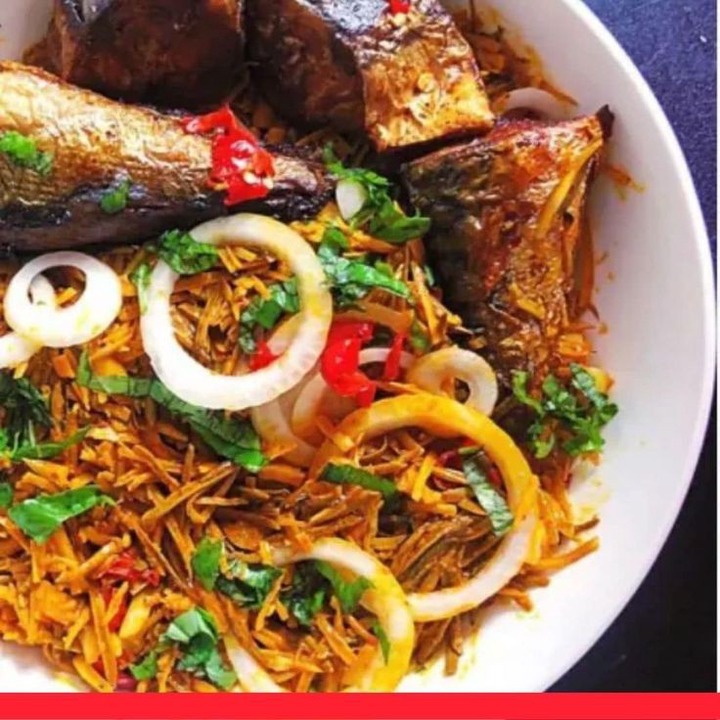 Abacha and also known as African salad, is a cassava-based dish from the Igbo tribe of Eastern Nigeria. It is serve as in between meal, main meal to visitors at home or parties.
Abacha is one such meal that is always considered on any occasion or event organized by the Igbos.
This is because it is delicious and festive. However, it has gradually become a Nigerian food that people of all tribes are interested in eating more often.
 Abacha is prepared with cassava. The cassava tubers are cooked till done then sliced with a special grater.
The sliced cassava is then soaked in cold water overnight, washed thoroughly and dried under the sun.
Your African Salad will not be complete without Ugba. Ugba, also known as Ukpaka, is made from oil bean seeds.These seeds are cooked for several hours then sliced, washed and left to ferment a little bit.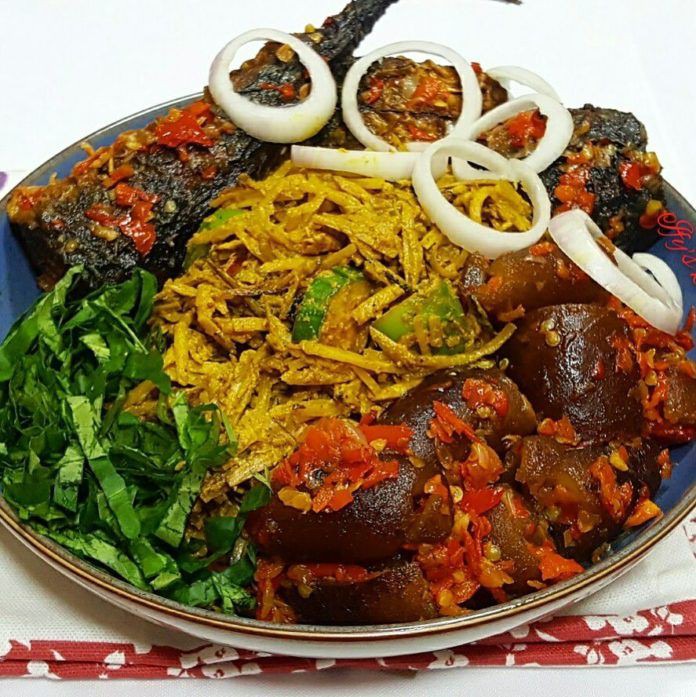 The key to making a good African Salad is to make sure that all the ingredients are well incorporated.
Ingredients
400g Abacha (dried shredded cassava)
1 cup, Palm Oil
6 Garden Eggs, diced
Stockfish- 10 pieces, spiced and cooked
10 pieces of Kpomo, spiced and cooked
100g Ugba, sliced
1tbsp Garden Egg leaves, finely chopped
1/4 tsp Potash
1 Seasoning cube
Chilli Pepper to taste
2 tbsp ground Crayfish
Boiling water
Salt to taste
Directions
Season and cook the stockfish and kpomo
Soak the abacha in cold water for about 10minutes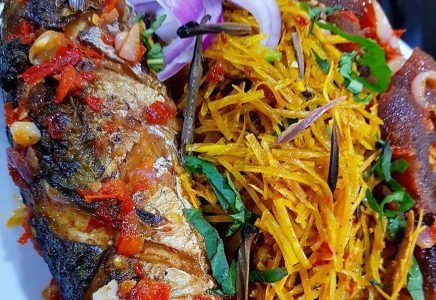 Drain out the cold water, pour boiling water over it and quickly drain out the water
Let it sit in a colander for about 5minutes
Dissolve the potash in water and then stir with the palm oil in a pot
Place on heat and add the pepper, crayfish and seasoning
Stir properly then add the ugba,chopped garden eggs,the stockfish and kpomo
Add the add abacha and mix properly allowing all the ingredients to blend
Garnish with chopped garden egg leaves
Add salt to taste
Your delicious African salad is ready. Enjoy!
All photos credit: pinterest images