A hit with children, make this buttery biscotti for Christmas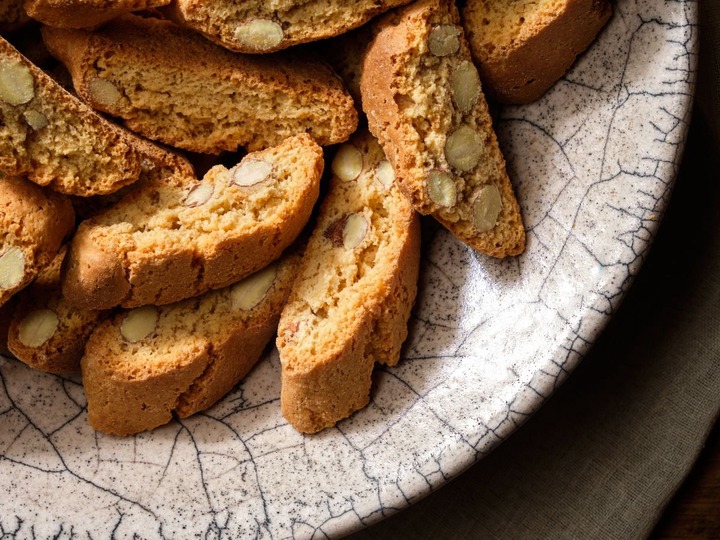 Ingredients
3.5 cups all-purpose flour

10 tbsp unsalted butter, soften it to room temperature

1.5 cups sugar 

3 large eggs

2 tsp vanilla extracts 

1 tbsp baking powder 

3/4 tsp baking powder 

2/3 cup almonds, slivered preferred 

2/3 cup chocolate chips 
Method
In a big bowl mix together butter and sugar until it turns into a creamy texture.
Add eggs one at a time, stirring them in. Then stir in the vanilla extract.
In a separate bowl whisk together all-purpose flour, baking powder and salt.
Then add the flour mixture into the butter mixture. Mix it in to form a dough. Stir in almonds and chocolate chips.
Divide the dough into two equal pieces. Now make logs out of the dough (10-12 inches long by 2-3 inches wide) and place them at least 4 inches apart. Place the dough on the baking sheet.
Preheat oven to 176C or 350F. Bake the dough for 30 minutes at 176C or 350F.
Remove from oven and let the biscotti cool down. Once cool, slice them diagonally roughly 1 inch thick.
Place biscotti back on the baking sheet and return to the oven (at 176C). Bake for 10 minutes. Flip each biscotti over gently and bake for another 10 minutes at the same temperature.
Biscotti is properly baked when it turns lightly golden-brown. Allow it to cool down and then store in an airtight container.
Cindy Mallier
Indian-Goan expat living in Dubai
Do you have a baked food recipe to share with us? Write to us at [email protected]fnews.com