NEWS
How To Make A Delicious Ogbono Soup
They will say that the Ogbono Soup is difficult to cook! Ogbono Soup does not draw if you cover the pot! Ogbono Soup burns easily! My Ogbono Soup tastes like soap, Ogbono Soup this, Ogbono Soup that.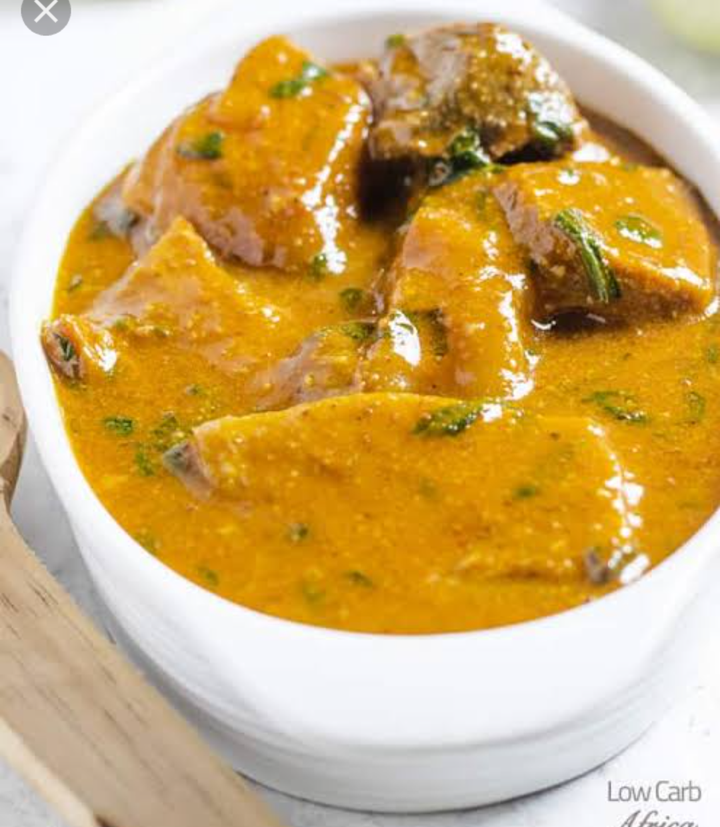 Stop complaining and let me show you how to make this delicious soup together. Join me.
 Ogbono soup ingredients
Making sure you get the right ingredients for your Ogbono is very important.
* Get atleast 1 and a half cup of Ogbono seeds (ground it)
* beef, cow skin and cow tripe
* 3 pieces of stockfish
* 1 cup stockfish chin chin
* Your palm oil
* 1 onion
* ogiri okpei
* your grounded crayfish
* 4 small seasoning cubes
* ugu (the quantity that you need)
* Uziza leaves (quantity that you need)
* Habanero pepper
* sweet pepper
* your Salt (to taste)
Let's prepare our table before cooking.
1. First grind the Ogbono.
2. Grind the crayfish with the ogiri okpei (break up the ogiri for easy grinding).
3. You wash and slice the vegetables.
4. Chop the sweet pepper and habanero peppers.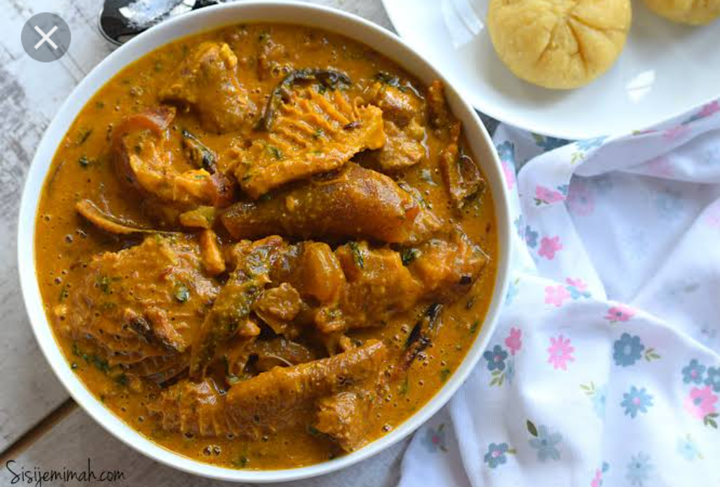 Directions for making the Ogbono Soup
— First cook the meats and stockfish at the same time with the seasoning cubes and onions.
— When the meat and stockfish are cooked, take off the stock fish, de-bone and break up the stockfish into medium pieces.
— Pour the palm oil into a clean dry pot and let it heat up.
— Add the ground ogbono to the palm oil and mix well (use a spatula).
— Pour the water you used to boil the fish and meat bit by bit on your ogbono while you stir at the same time. Once your done, let it start cooking.
— Always keep a close watch on the ogbono and stir from time to time to avoid burning.
— After 20 minutes of cooking and stirring it often, add the ground crayfish and the grounded ogiri okpei.
— Add your chopped peppers and stir very well to avoid lumps.
— Add the stock fish and the rest of the meat.
— Add salt if necessary.
— your stir Once more and add your ugu and uziza leaves. Then cover for less than a minute and "IT IS DONE"
Best Served with fufu or eba.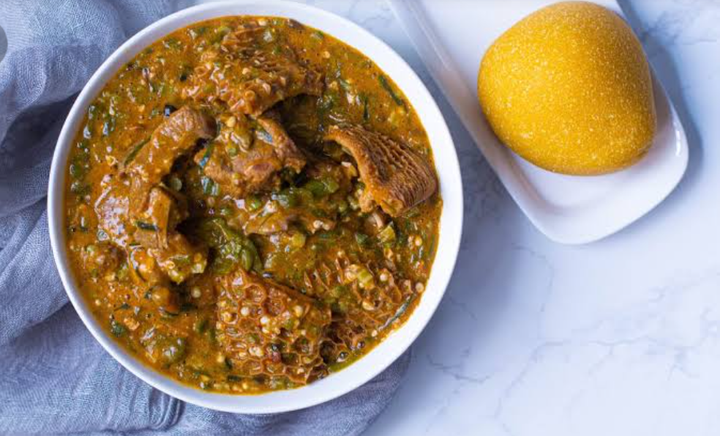 source:www.allnigeriarecipe.com