Recipes
Checkout How To Make The Delicious Nigerian Fritata
The people of Nigeria don't joke when it comes to their food. That's why they are blessed with a lot of delicious meals. You will also agree with me that breakfast is a very important meal that keeps the body ready for the full day activities. Foods like bread, akara and fried plantain comes to mind when you think of breakfast. But, have you ever tried making a frittata? This is a kind of breakfast you would want to settle down to enjoy with your family.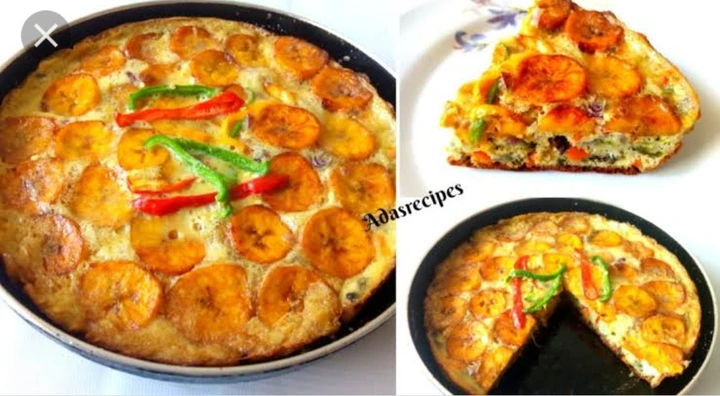 The Frittata which translates to "fried" is an egg based dish of Italian origin. Very enriched with other ingredients such as meat, sausages, vegetables or even pasta. A very soft and slightly sweet meal. It can be served alongside sausages, salad or with cereals like Pap, Oats, Tapioca, Acha e.t.c.
Let's get our ingredients and go to our kitchen.
 Ingredients
• 4 Ripe Plantain
• 3 cups of grounded beef
• 2 pieces of red bell pepper (chopped)
• 1 sized onion ( chopped)
• 1 medium sized green bell pepper (chopped)
• 5 to 6 eggs
• 1 chili powder (tablespoon)
• 1crushed seasoning (tablespoon)
• 2 cups of your cooking oil
• Salt to taste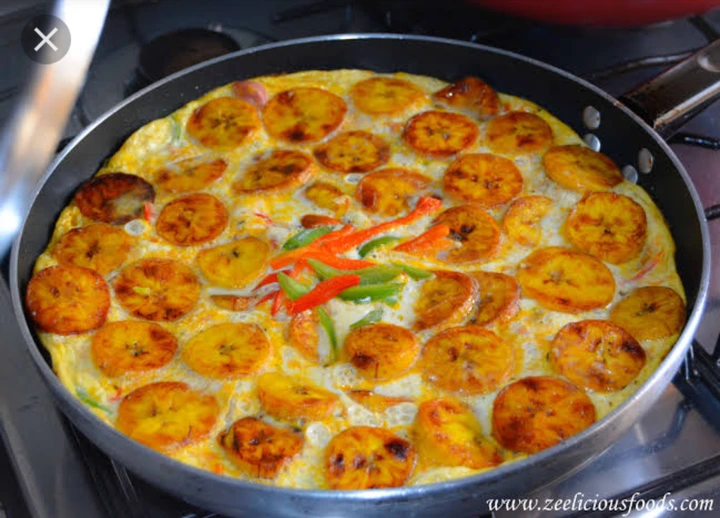 Cooking Directions
Step 1: First slice open your ripe plantain and cut into your desired shape. Personally, I make mine round.
Step 2: Add salt to taste and toss to mix everything together properly.
Step 3: Heat up cooking oil on medium heat and add the plantain.
Step 4: Fry till the plantain is golden brown, then drain the fried plantain on a paper towel.
Step 5: Remove the oil from the frying pan completely and add the greased pan back on the burner.
Step 6: Add half of the chopped onion and stir fry for 35 seconds then add the
ground beef.
Step 7: Add the chili powder, seasoning and salt and stir and let it cook for about 10 minutes till it releases its delicious juice. Once it's cooked, turn that out, into a different bowl.
Step 8: Get an empty bowl, combine the eggs, onion, green bell pepper, red bell pepper, minced meat, plantain, and salt to taste.
Step 9: Mix everything together and pour into the greased empty pan. Top with the rest of the minced beef, plantain, red & green pepper.
Step 10: Place the pan back on the burner and cover. Lower the heat of your gas and leave to cook on very low heat for about 10-15 minutes or till the bottom is set but the top is still runny.
Step 6: And your Nigerian plantain frittata is ready. Slice it up