Recipes
20 Skillet Dinners You'll Want to Make This Winter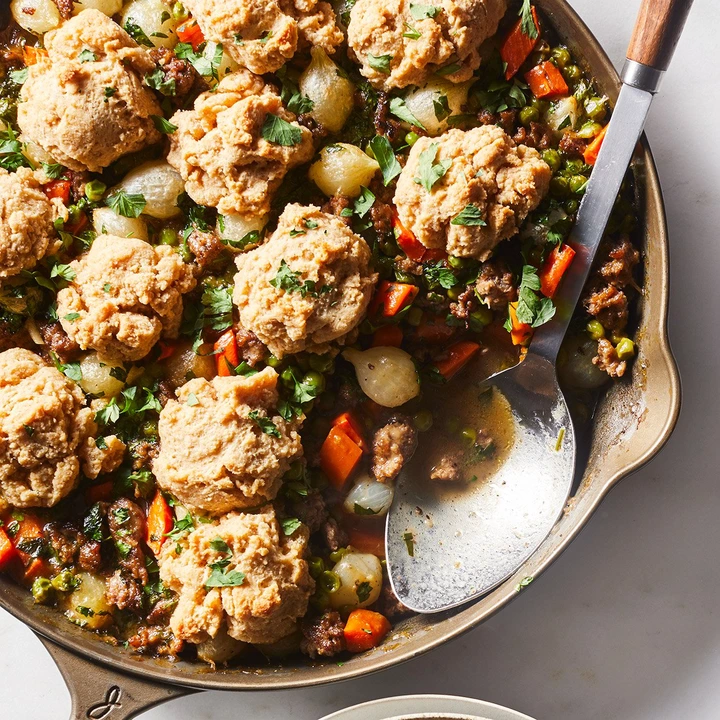 Keep dinner—and cleanup—simple tonight with one of these one-pan meals. Whether you use a trusty cast-iron skillet or your favorite nonstick pan, these recipes will help you whip up a delicious dinner in a pinch. Recipes like our Skillet Beef Potpie with Buttermilk Biscuits and One-Skillet Chicken Paprikash with Mushrooms & Onions are packed with lots of tasty winter produce, from tender potatoes to creamy butternut squash.
One-Skillet Chicken Paprikash with Mushrooms & Onions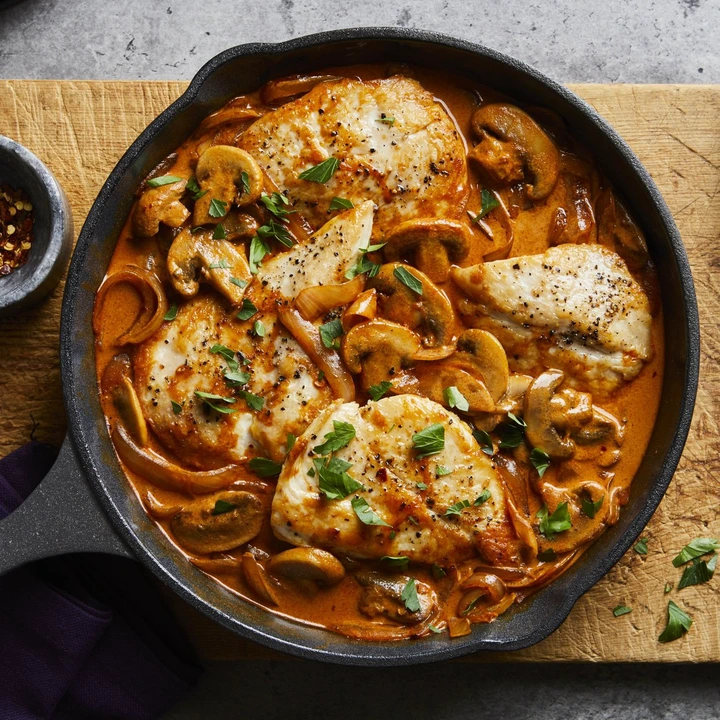 Try this quick and easy one-skillet version of the Hungarian classic chicken paprikash. Serve the chicken cutlets, mushrooms and creamy sauce over egg noodles with a green salad on the side.
Skillet Beef Potpie with Buttermilk Biscuits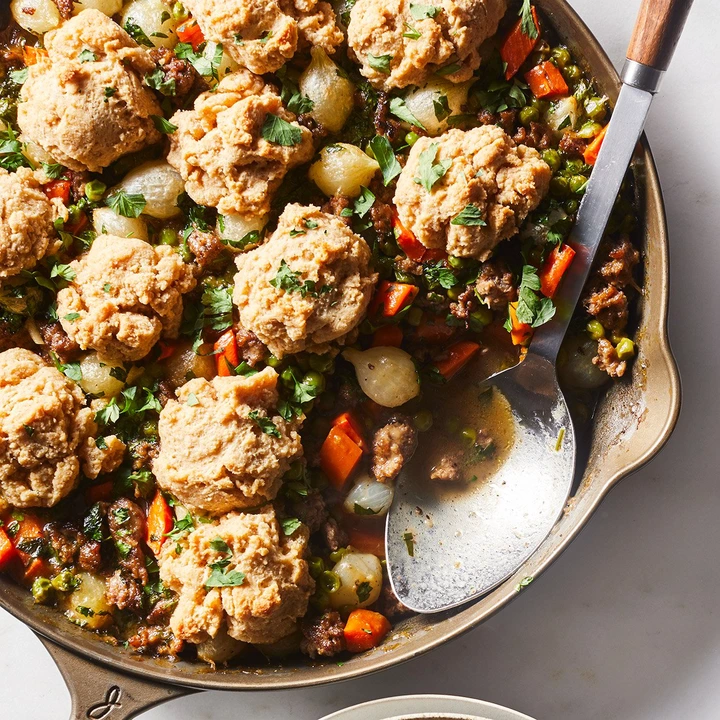 Using an oven-safe skillet (like cast iron) allows you to take this healthy homemade potpie from stovetop to oven without dirtying extra pans. A quick drop-biscuit topping made with white whole-wheat flour adds 2g fiber per serving and cuts the sodium in half compared to using refrigerated biscuit dough.
Ground Beef & Potatoes Skillet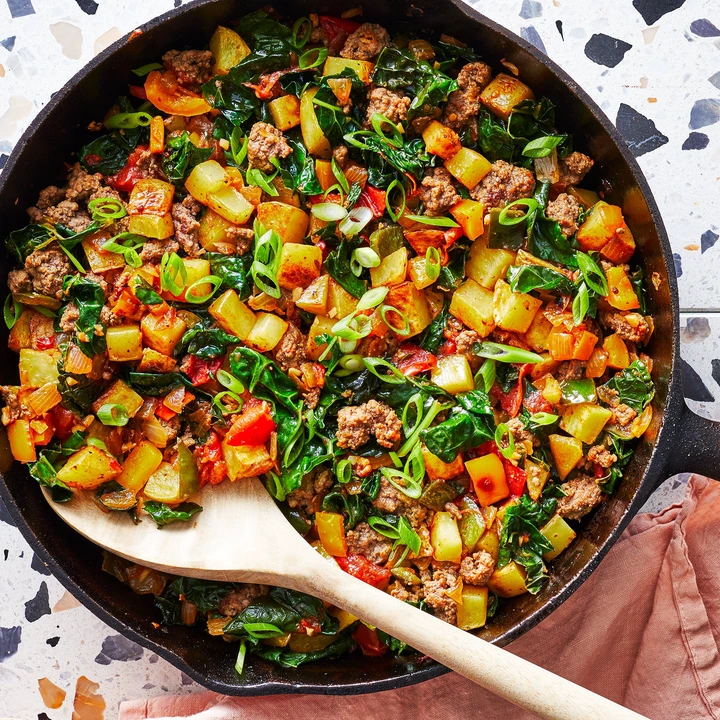 In this healthy dinner recipe, ground beef and potatoes are paired with colorful veggies, including kale, tomato and peppers. Everything is cooked in one skillet, which allows for layers of flavor to build quickly while also cutting back on the number of dishes.
Chicken, Spinach & Rice Casserole with Sun-Dried Tomato Cream Sauce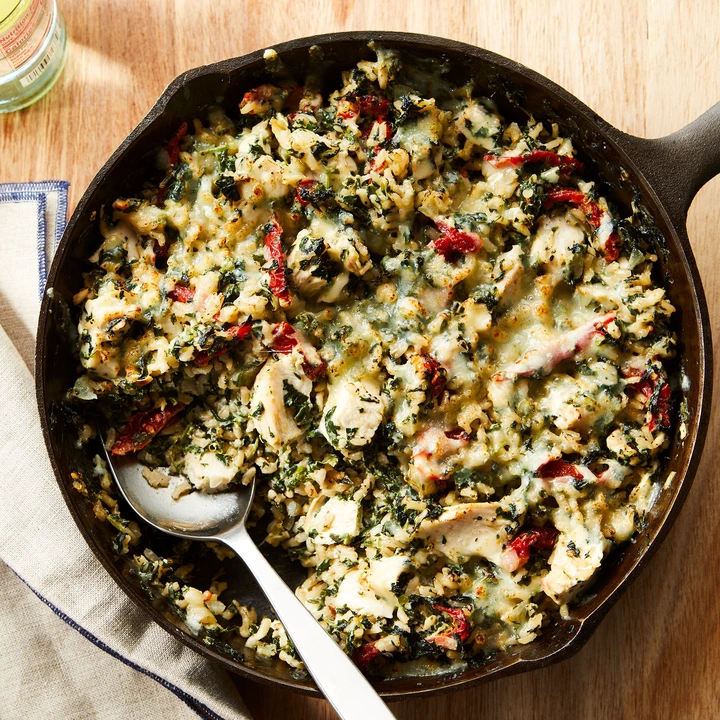 Cheesy, filling and utterly delicious, this weeknight-friendly casserole uses precooked chicken and brown rice to save time without sacrificing flavor. Be sure to squeeze as much water from the frozen spinach as you can so your casserole doesn't get watery.
White Chicken Chili Casserole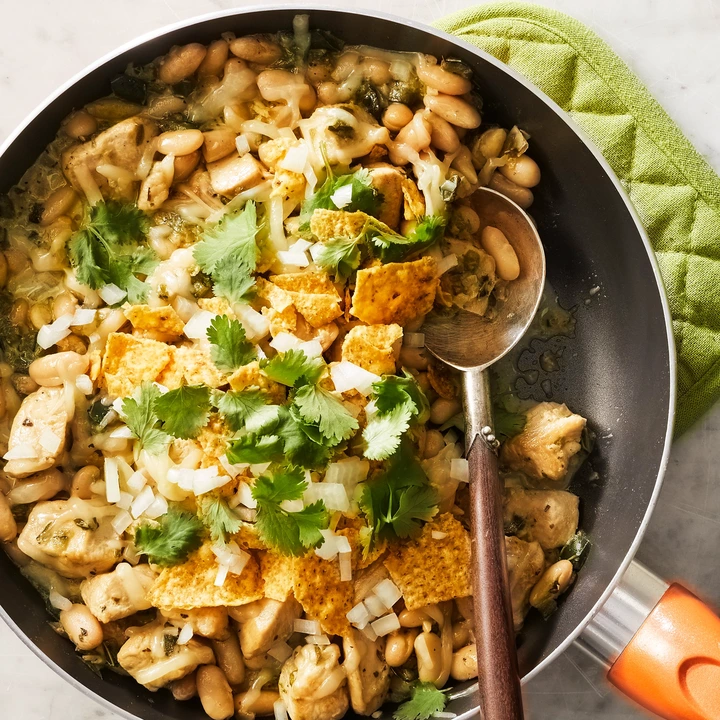 This easy, one-skillet casserole is packed with heat thanks to two kinds of peppers, poblanos and jalapeño. If you want to increase the spice level, leave the seeds in the jalapeño. Finish with your favorite toppings like Cheddar, cilantro and crumbled tortilla chips.
Creamy Harissa Chicken Cutlets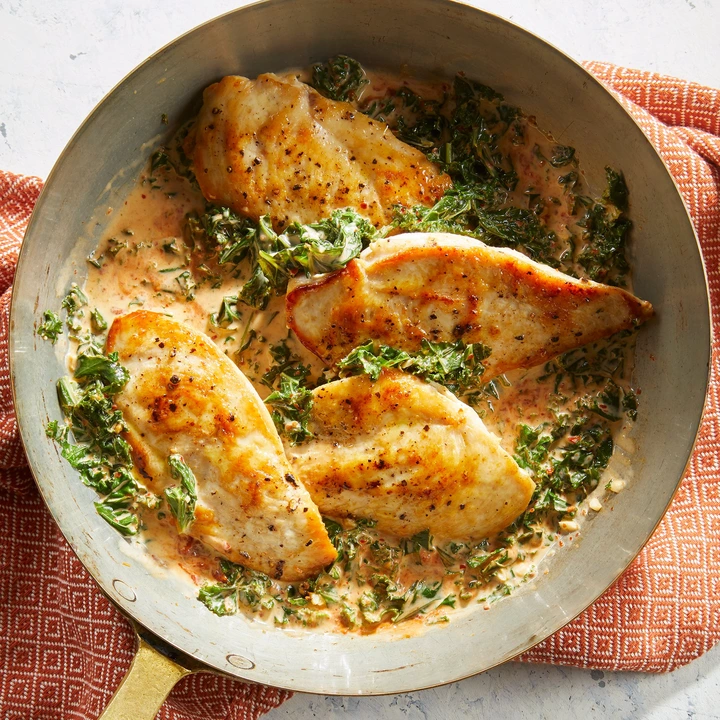 These spicy chicken cutlets are already wicked fast to make but to shave off even more time, skip cleaning and slicing whole kale leaves and stir in a bag of chopped kale instead. (You may just need to cook it a couple minutes longer.)
Cheesy Portobello Chicken Cutlets with Broccoli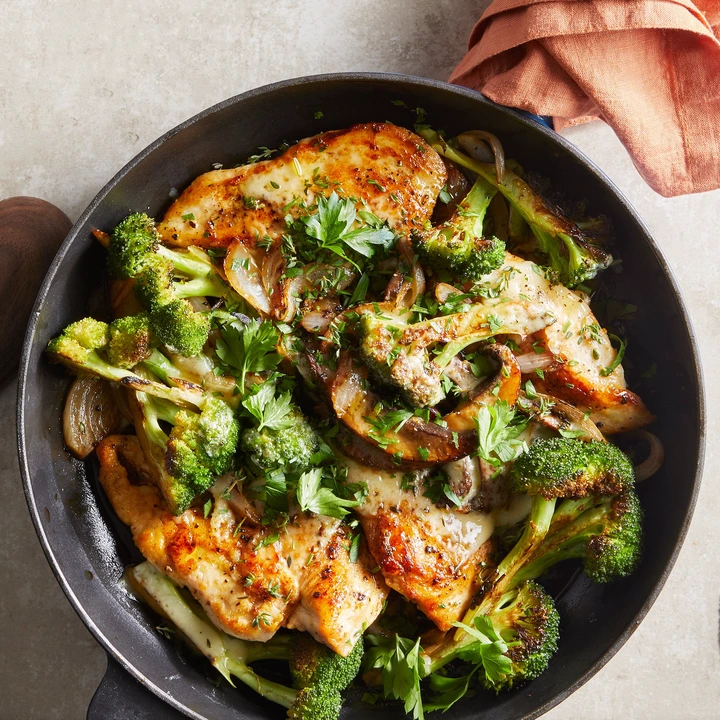 Adding nutty Gruyère atop the chicken at the very end and popping it under the broiler takes this dish from delicious to heavenly. If you can't find Gruyère, Jarlsberg or Emmentaler cheese makes a good substitute.
One-Skillet Pastitsio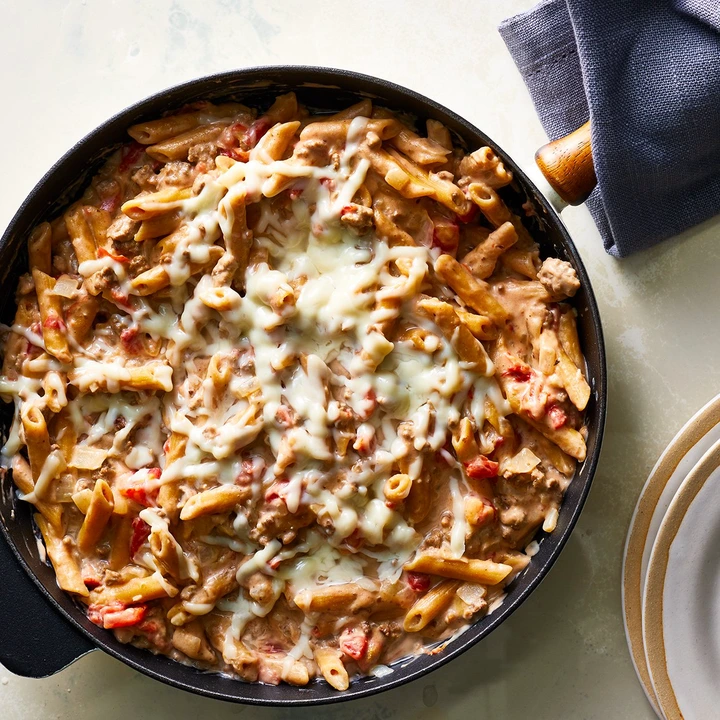 Pastitsio is a classic Greek baked pasta dish made with ground beef and bechamel. Our version has all the flavors and the comforting feel of the classic, but is made in one skillet (less cleanup!) and is healthier for you, using whole-grain pasta, lean meat and low-fat dairy.
One-Pan Baked Chicken & Potatoes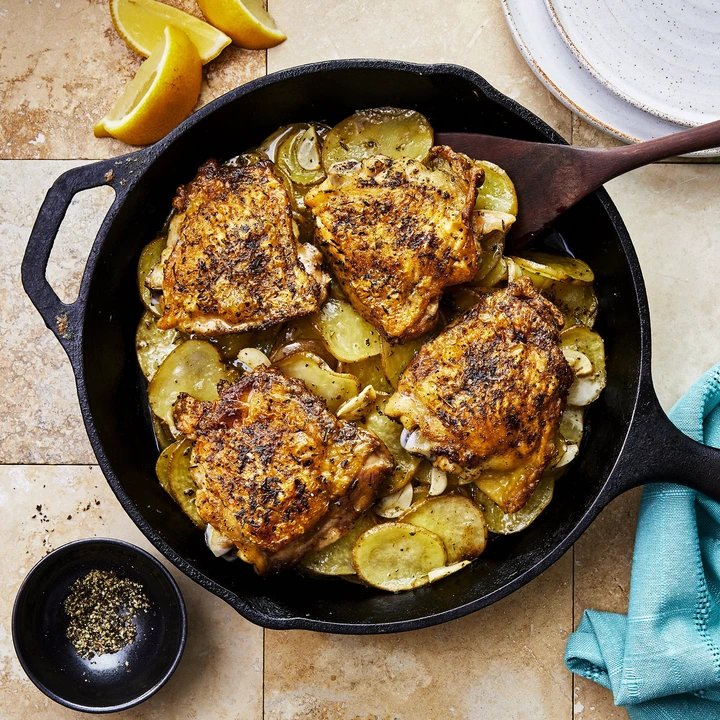 With just one skillet, you can make baked chicken and potatoes with ease. The chicken cooks directly on top of the potatoes to add flavor while also cutting down on the number of dishes to clean.
Cheesy Ground Beef & Cauliflower Casserole
Ground beef and cauliflower combine to create a hearty weeknight casserole that both kids and adults will love. Serve with tortilla chips and sour cream.
Skillet Honey-Lemon Chicken Thighs with Potatoes
Moist chicken thighs, tender potatoes and a bright honey-lemon sauce cook together in this flavorful one-pan dinner. It's tasty enough for company, yet easy enough for a weeknight.
Cauliflower Fajita Skillet
Thinly sliced cauliflower florets mimic the signature shape of fajita meat in this dish. We cook it in a cast-iron skillet for that tableside sizzle you'd get at a restaurant.
One-Skillet Creamy French Onion Chicken
This easy one-skillet dinner marries the rich and savory flavor of French onion soup with chicken cutlets in a creamy, satisfying sauce. Serve with a simple green salad with homemade croutons for crunch.
Skillet Chicken Breast & Broccoli with Mustard-Rosemary Pan Sauce
The one-two punch of searing and roasting results in this perfectly browned, moist, and tender skillet chicken recipe.
Skillet Lemon Chicken & Potatoes with Kale
This easy one-pan skillet-roasted lemon chicken is perfect for weeknight dinners. Juicy chicken thighs are cooked in the same pan as baby potatoes and kale for a satisfying meal with the added bonus of minimal cleanup.
Rosemary Chicken with Sweet Potatoes
Chicken and sweet potatoes unite with the delicious taste of rosemary in this easy, one-skillet meal. Because we use parcooked and unseasoned sweet potatoes, the cooking time is much shorter–making this recipe perfect for weeknight cooking.
Adobo Chicken & Kale Enchiladas
Put out your favorite toppings for these quick and healthy layered enchiladas. We like cilantro, sour cream, guacamole and jalapeños.
Smoked Turkey, Kale & Rice Bake
This hearty one-skillet dinner is loaded with celery, kale, tomatoes and quick-cooking brown rice. It's easy to make the recipe vegetarian by substituting smoked tofu for the turkey.
Vegetarian Quinoa & Squash Casserole
An aromatic mixture of garlic, paprika, cumin, coriander, allspice and cayenne flavors this vegetarian quinoa and squash casserole recipe. Frozen squash is a super-easy topping.
Steak with Glazed Carrots & Turnips
This cast-iron steak recipe has what it takes to transform beef and vegetables from basic to brilliant–a pop of rosemary on the steak, an intense sear in a hot skillet and a sweet-and-sour glaze on the vegetables. Serve with sautéed spinach and a glass of red wine.