Tomatoes are one of those versatile items that can be used fresh, cooked, or dried. Below you will find 25 of the Best Tomato Recipes that will have you wanting to grow your own tomatoes! They come in a variety of shapes, colors, and sizes. Now imagine using them for recipes from soups to tarts to pasta!
What Can I Make with Lots of Tomatoes?
There are endless possibilities when you have lots of tomatoes. You could make:
Tomato sauce for pasta or other dishes
Tomato soup including gazpacho for a cold option
Homemade tomato juice, or even a Bloody Mary for an alcoholic option
Salsas such as pico de gallo
Sundried tomatoes by roasting tomatoes in the oven
Tomato salads such as a Greek salad
Indian dishes such as tomato curry or chana masala
Last but not least, if you have canning equipment you can make canned tomatoes or pickled tomatoes to preserve for later use.
Is Tomato a Fruit?
There has been a longstanding debate over whether tomatoes are a fruit or vegetable! In 1893, the U.S. Supreme Court ruled the tomato had to be classified as a vegetable since that was how it is used. However, the botanical definition is technically that of a fruit, since the tomato forms a flower and contains seeds.
What To Make With Tomatoes If You Don't Like Tomatoes?
If you don't like the sour taste of raw tomatoes, you can try making a Caprese salad where the mozzarella, basil and balsamic balance out the tomato taste. Cooking the tomatoes with a hint of sugar will also neutralize the acidity and make the taste more appealing.
Recipes to Use Up Fresh Tomatoes
Cherry Tomato Recipes
Green Tomato Recipes
Other Popular Tomato Recipes
How to Store Fresh Tomatoes?
If you plan on using tomatoes within a day or two, simply store at room temperature out of direct sunlight. To keep them a bit longer, store them stem-side down until ripened. You can also put them in the fridge, although the flavor and texture will deteriorate somewhat.
Can You Freeze Fresh Tomatoes?
Yes, you can freeze your tomatoes whether they are raw or cooked, and even if they are chopped or pureed! There is no need to blanch them before freezing, either. However, beware that the texture will deteriorate as they thaw, so plan to use them in soups, sauces or stews (and not in salads!).
You May Also Like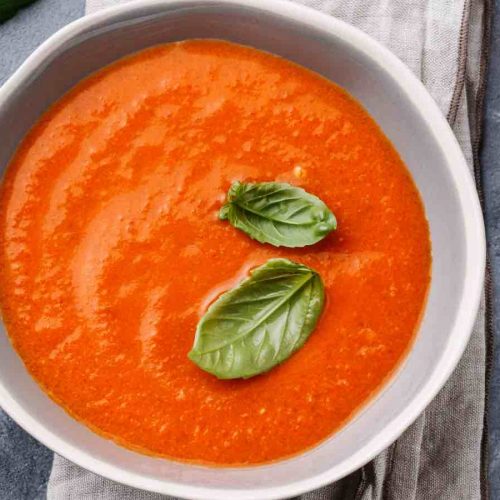 25 Best Tomato Recipes (Tomato Soup Recipe & More)
This homemade tomato soup is one of our favorite tomato recipes. It's smooth, flavorful, and so delicious. You'll never go back to store-bought soup again!
Ingredients 
4

tablespoons

butter

unsalted

1/2

onion

sliced

1

28-ounce can tomatoes, or fresh tomatoes

1 ½

cups

water

1/2

teaspoon

salt

or more to taste
Instructions 
In a large saucepan over medium heat. Add butter until melted.

Add sliced onions, tomatoes (together with the juices), water, and salt.

Bring to a simmer, stirring constantly.

Cook for about 40 minutes uncovered, stirring occasionally.

Blend the soup and season with more salt as needed. Serve and enjoy!
Tried this recipe?
Follow or tag us on Pinterest @izzycooking