Recipes
12 Best Kidney Bean Recipes
If you can find a can of kidney beans in your pantry, you're well on your way to preparing a healthy, wholesome meal. We've rounded up 12 of the Best Kidney Bean Recipes that are easy to make at home.
These beans are quite nutritious and can be used in so many delicious and unexpected ways. For vegans (or for those who practice Meatless Monday), kidney beans are a tasty source of plant-based protein.
At the grocery store, you're likely to find both red and white kidney beans, though the white ones are sometimes called cannellini beans. Both varieties can be used to make hearty, nourishing dishes the entire family will love.
Kidney Bean Nutrition and Benefits
Kidney beans are one of the healthiest plant-based sources of protein. Eating kidney beans on a regular basis can improve your overall health by reducing cholesterol and lowering your risk of heart disease. Kidney beans are also known to help prevent colon cancer, thanks to its high fiber content. These beans are also high in minerals like iron and folate, as well as Vitamin B1.
How to Cook Kidney Beans?
If you'll be using dry kidney beans for any of these recipes, you'll need to cook them first. Soak the beans for at least 5 hours before heading to the stove. This helps to speed up the cooking process. Fill a large pot with water and throw in the beans. If you wish, you can add salt or seasonings to the water. If you do, remember to reduce the amount of salt you're using for the rest of the recipe. Cook the beans for about an hour. Test for softness using a fork. If they're not ready yet, check on them every five to ten minutes until they're cooked.
Red Kidney Beans Recipes
White Kidney Bean Recipes
Easy Canned Kidney Beans Recipes
Puerto Rican Rice and Beans: Known as Habichuelas in Puerto Rico, this stew gives you all the flavor and spice of the Caribbean. Enjoy as a quick weeknight dinner and use the leftovers for lunch tomorrow!
Chili Party Ring: Get the party started with this impressive chili dog skillet ring! Guests will love pulling apart the bread ring and dipping into the meaty, cheesy chili in the middle.
Red Kidney Beans Curry with Canned Beans: When time is of the essence, use a can of red kidney beans to create this flavorful curry. In less than thirty minutes, you'll have a wholesome meal on the table.
Are Kidney Beans Healthy?
When it comes to beans, kidney beans may be your healthiest choice. They're a plant-based source of protein and provide the body with several vitamins and minerals to support overall health. Kidney beans have been known to help with reducing cholesterol and increasing healthy gut bacteria for your digestive health.
Are Kidney Beans Keto?
If you're following a ketogenic lifestyle, you may want to avoid kidney beans, or eat them sparingly. These beans are fairly high in carbohydrates, with one cup containing almost 30g of carbs. It's best to have a low-carb alternative such as green beans or black soybeans.
You May Also Like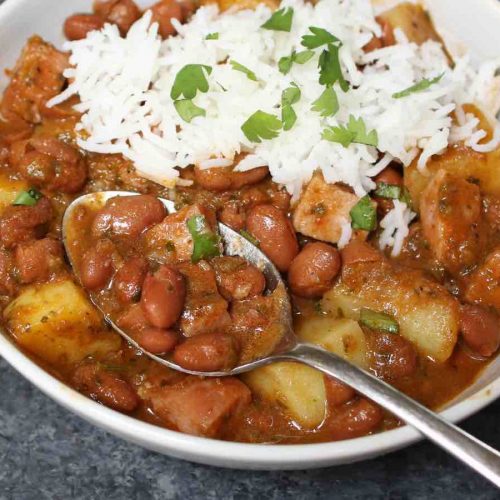 12 Best Kidney Bean Recipes (Rice and Beans Recipe & More)
Puerto Rican Rice and Beans are flavorful and comforting. It's one of our favorite kidney bean recipes.
Ingredients 
2

tablespoons

sofrito

1

tablespoon

oil

3/4

cup

ham

cubed

¼

cup

tomato sauce

2

cans

red kidney beans

(14 oz each)

1 ½

cup

chicken stock

½

pound

potatoes

cut into smaller chunks

¼

teaspoon

dried oregano

1

teaspoon

adobo seasoning

salt and pepper

to taste

steamed rice
Instructions 
Add oil to a large skillet over medium heat. Then add sofrito and sauté for about 2 minutes or until fragrant.

Add ham and stir fry until it starts to caramelize.

Add tomato sauce, beans, chicken stock, and sazon seasoning.

Add potatoes and season with oregano and adobo seasoning.

Bring to a boil, then reduce heat and simmer for 25-30 minutes. The potatoes should be tender and completely cooked through.

Season with salt and pepper if needed. Serve warm over rice and enjoy!
Tried this recipe?
Follow or tag us on Pinterest @izzycooking