Here is 50 food ideas for diabetic patients in Nigeria.  INCLUDING A ONE-WEEK-MEAL-PLAN FOR DIABETES [FOOD TIMETABLE]
Kidney beans sauce.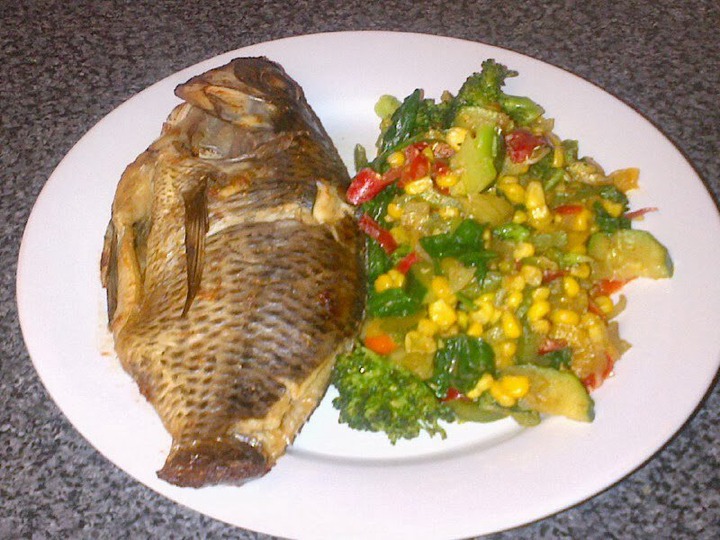 Nigerian moin moin.
Nigerian foods for diabetic are also great if you are looking to lose weight. Even if you are not diabetic, you know one or have one in your family and we are all aware of what they go through daily thinking of the right Nigerian food to eat or avoid.
What is the right Nigerian food to eat if I have diabetes? Nigerians consume so much carbs and, in managing diabetes, the type of carbohydrate food you eat makes a difference. This 50 Nigerian food ideas for diabetics with recipes will help guide you.
As a diabetic living in Nigeria, you can pay attention to what you eat without obsessing over everything. Nigerian food for diabetics are foods rich in fibre and low in carbohydrates. To stay healthy, avoid sweets, soft drinks and fatty food. Before a meal plan, let's look at a list of Nigerian foods good for diabetic patients (Below).
These Nigerian food ideas for diabetics are not the only foods,
 there are so many others to help diabetics not go hungry. These are just to guide you. You can compile your own list avoiding sugars, processed foods, alcohol, caffeine, and evene white carbohydrates.
Health Tips for diabetes;
Lose extra weight. This can be done without starving, eat smaller portions, eat more proteins and vegetables than carbs.
 Exercise… there are youtube videos that can help with exercise whether you have have only a few minutes to spare or hours. 'Bright side exercise videos' videos on Youtube are great.
Check your blood sugar level regularly. There is a self-help urine test post on the blog that might help you have an idea of sugar levels in your blood.
Get A1c blood tests from your hospital/Doctor to find out your average blood sugar for the past 2 to 3 months. …
Track your carbohydrates. You can easily do this by writing down every kind of food that goes in your system.
Control your blood pressure, cholesterol, and triglyceride levels (Take tests, talk with a medical practitioner, avoid red meats or cut down drastically, get adequate sleep at least 8 hours daily, avoid situations/ events that can cause sadness. Try your best to be happy.
Keep moving. Even if you are retired, do not become sedentary as a sedentary lifestyle can cause a whole lot of health issues. Do not sit on one position for too long, if you must watch TV, stand up from time to time and move around. Clean, wash, arrange, go for walks around your neighbourhood. Jog on the spot even in your kitchen jog in your bedroom or living room.
Manage stress. Life is getting more and more stressful and you have to find a way to reduce stress in your life.
Live simple, do not try to impress, save as much as you can and spend less.
You need to eat unpeeled beans moi moi because the beans skin contains the much needed insulin.
Eat beans and maize skin too if you are a diabetic patient in Nigeria
Beans skin and maize skin are both great for diabetic patients because they contain insulin.  Use food recipes that include beans and corn without removing their skin as chaff. You need them.
I'm going to post a video of me making nutritious beans and corn porridge that's excellent for diabetics.  You can watch it on YouTube and subscribe to my channel. That will enable you get notifications whenever we post. Already we have many healthy food recipes there and are still uploading more healthy  recipe videos on my YouTube by God's grace.
Or watch the beans and corn porridge video here if you like.
NIGERIAN SOUPS FOR diabetics
Snail meat is excellent for peoplemanaging diabetes. Watch me prepare crunchy peppered snails from scratch 
Okro soup
STEWS AND SAUCES For diabetes: TO SERVE WITH BROWN BASMATI RICE OR BOILED PLANTAIN:

Smoked fish gravy (Titus, mackerel).
Shrimp sauce.
Fresh Fish sauce/stew

LOW CARB NIGERIAN MEALS FOR DIABETICS IN NIGERIA OR ANYWHERE ELSE IN THE WORLD:
Brown basmati coconut rice with vegetables
Brown basmati fried rice
Jollof brown basmati rice with coleslaw
Brown basmati rice and stew
Unripe plantain porridge
Boiled plantain with stew/with moi moi
Homemade Roasted plantain with fish sauce (Shop griddle pan
for roasting at home).
unripe Plantain with beans porridge.
Boiled plantain with vegetable stew.
 Plantain with egg sauce.
Boiled plantain with vegetable egg sauce.
Beans and whole wheat bread.
Ewa agoyin (Shop fry pan
for making).
Guinea corn agidi with stew.
Brown beans and guinea corn meal.
Millet fufu ( Unlike wheat, millet is gluten-free) It can be used to make all Nigerian foods made with corn or wheat. Can replace wheat for those who can't eat wheat.

BEST DRINKS FOR DIABETES OR DIABETIC PATIENTS 

Water
Zobo without sweeteners.
Guinea corn (Dawa) kunu.
Millet (joro) kunu.
Unsweetened yogurt.
Nigerian Pepper soups.
Kunu geida from guinea corn or millet ( Millet is one of the few grains that are alkalizing to the body) (Shop cheesecloth
for sieving)
HEALTHY NIGERIAN COMFORT FOODS FOR A DIABETIC PATIENT
Isi ewu.
nkwobi.
cow leg (Shop pressure cooker
for easy and quick cooking).
cow tongue.
Fish pepper soup.
Chicken pepper soup.
Snail pepper soup.
peppered snail.
Liver sauce.
Gizzard pepper soup
BEST NIGERIAN SNACKS FOR DIABETIC PATIENT: 
Garden eggs with Nigerian peanut butter (pepper kola).
Coconuts.
Boiled groundnuts.
Akara balls (Shop deep fryer
).
Tiger Nuts.
Nigerian pear (ube)
Below is a one week meal plan to help Diabetic Patients who eat  Nigerian food to stay healthy and relaxed without always thinking about what to eat next: 50 Nigerian food ideas for diabetics helps cover all your dietary needs and give you rest of mind.
MONDAY: Nigerian food timetable for diabetic patients 
Breakfast: Lipton tea or green tea with (whole wheat bread) coleslaw sandwich.
Lunch: Unripe plantain fufu with vegetable soup and fish
Dinner: Guinea corn or millet pap with moi moi
TUESDAY FOOD TIMETABLEFOR DIABETIC PATIENT:
Breakfast: Guinea corn pap with moi moi or akara
Lunch:Wheat meal with okro soup
Dinner:plantain with garden egg stew
WEDNESDAY FOOD MENU FOR PEOPLE WITH DIABETES:
Nigerian food good for Diabetes to control or lower blood sugar .
Breakfast: Oats with moi moi or wheat bread
Lunch: Jollof brown basmati rice with fish and vegetables
Dinner: Plantain with stew or pepper soup.
THURSDAY FOOD PLAN FOR DIABETIC PATIENTS:

Breakfast: Lipton or green  Tea with wheat bread and boiled eggs
Lunch: Wheat mel fufu with edikaikong soup
Dinner: Pepper soup.

FRIDAY FOOD TIMETABLE FOR PEOPLE WITH DIABETES:

Breakfast: Boiled water yam with vegetable stew
Lunch: Okro soup with plantain fufu or wheat meal
Dinner: Ewa agonyin.

SATURDAY FOOD TIMETABLE FOR DIABETIC PATIENT:
Breakfast: Akara and pap (Guinea  corn)
Lunch: Unripe plantain porridge
Dinner: Vegetable ogbono soup with wheat fufu.

SUNDAY FOOD MENU FOR DIABETICS

Breakfast: Tea with wheat bread and boiled eggs
Lunch: Brown basmati rice and stew with chicken or fish served with vegetable salad
Dinner: Pepper soup
By wheat meal I'm referring to swallow fufu from home-made wheat flour.
Buy wheat grains, clean, mill and store in airtight containers at home to use whenever you need to swallow. 
NOT store bought wheat flour oh. Mill guinea corn and  millet too to use interchangeably. (NOTE: Wheat contains gluten)
BELOW ARE PICTURES OF NIGERIAN FOODS FOR DIABETIC PATIENTS:
CLICK ON THE BLOG  LINKS TO OPEN ALL THEIR RECIPES…


 One common thing about these foods picked for diabetes is that they are Nigerian food withpout sugar.
You are free to add more to the list. Nigerian foods good for diabetic patients should not contain sugars or other sweeteners.  
The reason I didn't include fruits is because majority fruits contain sugar but not pear or plum or avocado. 
if you eat generous amounts of vegetables daily ( vegetable soups, salads, etc), you are covered nutrient-wise. Use the comment box to ask questions or add more food suggestions.