NEWS
Undergraduate Whose Legs Were Cut Off After Birth Says People Are Ashamed Of Her And Treat Her Differently And It Hurts Her..
Ms Chinwetalu Charity is twenty-four years old and an Accounting student at Enugu state University….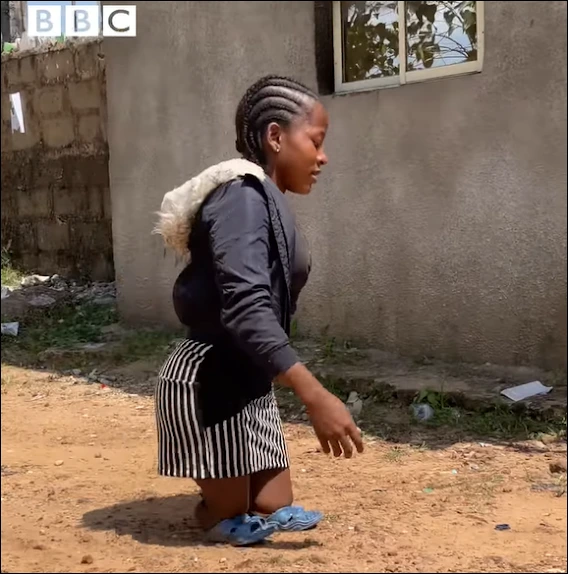 She told BBC Pidgin ….
"Most of the challenges I face is men, they don't like me, they are only pretending, they don't like to bring me out they will keep me inside which hurts me, they feel ashamed when they are around me. I believe I'm an asset any man that finds me finds a wife.
"A guy once told me that anything we walk together I use to walk like a child and what he said pained me because I'm a human being so for that reason I have decided that I don't need any man as they are all ashamed of me let me stay on my own I don't need anyone to look down on me or make me feel less human'
My name is Chinwetalu Charity I'm twenty-four year old. I'm studying accountancy at Enugu state University.
I was not born like this, my mum told me that after I was born I had no veins in my legs so the legs started rottening. She took me to different hospitals and the doctor advised that she cut off my legs if not i would die, that was why she cut off my legs. I have been smart and okay since my legs were cut off.
As I have no legs I wear palm slippers, which is also my heels and canvas when I buy a palm, I will cut it then tied rope inside. I don't feel bad when I see people wearing heels or canvas because I have my own also we are all one.
I started doing tiktok videos because I was lonely, I'm a creative person who has alot of creative ideas to showcase. I want to change people so they can stop looking down at people with disabilities, I want them to see us as one nothing happened to us it's just a challenge. That's my reason for doing tiktok videos.
They don't invite me to some functions at my school , they feel I'm not a human being so sometimes I feel angry or tired about going. People are treating me with pity and I don't like pity, I can do everything others are doing there's nothing wrong with me they don't allow me to express myself and I don't like it.
Despite my challenges I have made real friends they don't look at my condition they stand by me. if I do wrong they will caution me if I do right they will hail me. They take me as their own so we flow, sometimes they will come to my house to call me let's go out and I will dress up and follow them. They are ones making me feeling like a human being."